AMC Lions
The Archangel Michael Church LIONS group was formed with the goal of connecting young adults and recent high school and college graduates with fellow parishioners to gain professional advice, networking experience, and to say connected with our parish.
Our mission is to develop and foster a professional and personal connection between the Archangel Michael Church's Greek Orthodox youth and experienced members to: promote a culture of service, leadership and opportunity; share information, experiences and knowledge with each other; offer advice, actionable steps, programs and events to successfully navigate and advance their academic and professional journey; and to pay it forward for others along the way. Click here to view the AMC LIONS framework.
Archangel Michael held its inaugural LION (Long Island Orthodox Networking) event on January 9, 2018. The goal of this networking group is to coach, support, motivate and give direction to high school, college, and young professionals of the community in their future career paths. This events include both a panel discussion and breakout sessions for the youth to meet potential mentors. Our first panel included over 25 professionals who gave advice and guidance to the youth of our community. The breakout session allowed the AMC youth and young professionals to meet and interact with seasoned professionals.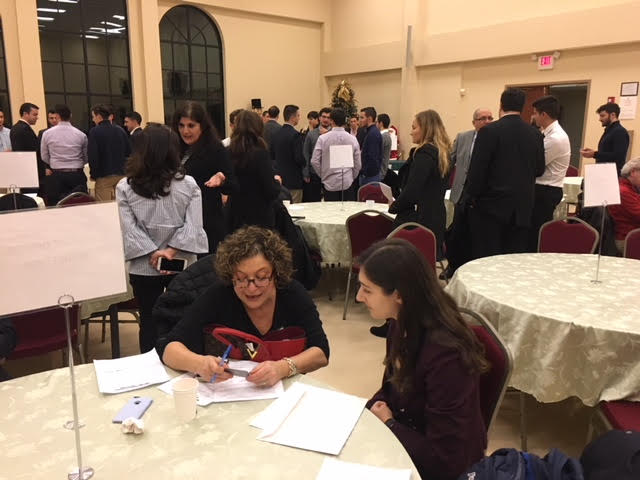 The panel included professions from Engineering, Law, Medicine, Banking, Finance, Information Technology, Education, Architecture, Clergy, Accounting, Politics, Graphic Design, Accounting and Entrepreneurs. The event was a huge success, and we would like to thank all the professionals and youth who participated. Future sessions will include workshops on resume building, interview skills and more panel discussions. The committee would like to have representation from additional professions that include Electrical, Plumbing, Carpentry, Law Enforcement, Musicians and others. If you are interested in becoming a mentor or a mentee, please email lions@archangelmichaelchurch.org.