Worship Schedule
Weekly Worship Services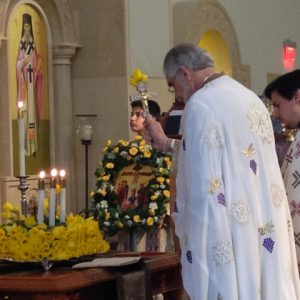 Please join us for worship on Sundays! We are currently holding drive-in services on the church plaza for parishioners who sign up. Attendees can set up lawn chairs outside of their vehicles.
Orthros: 8:00 am
1st Divine Liturgy: 9:00 am
2nd Divine Liturgy: 11:00 am
Click to sign up for an upcoming service here:


Click here to access our live stream and YouTube Channel (including past services).
While spaces for in-person worship remain limited and Sunday services are held in the church plaza, you may still ask us to light a candle on your behalf, make a donation, fulfill a stewardship pledge, or submit names to be read by the priests.
Make a Donation or Fulfill a Stewardship Pledge
Purchase a Candle for Us to Light on Your Behalf
Submit Names for the Priests to Read

To learn more about other services and activities, please connect to our calendar for special services, feast days, and events. You are also welcome to contact the church office by phone at (516) 944-3180 or by e-mail at info@archangelmichaelchurch.org.