Byzantine Youth Choir
The Byzantine Youth Choir
"Let the word of Christ dwell in you richly in all wisdom, teaching and admonishing one another in psalms and hymns and spiritual songs, singing with grace in your hearts to the Lord." (Colossians 3:16)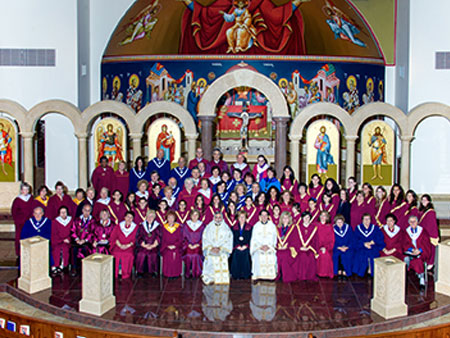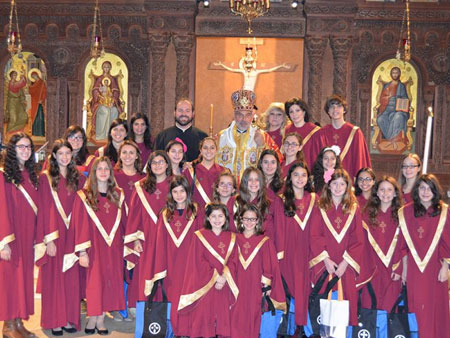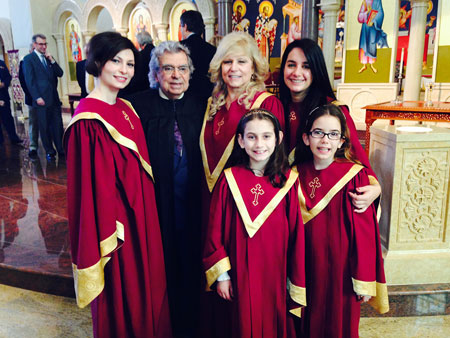 Our Mission
The Youth Music Ministry of Archangel Michael Church strives to preserve the rich musical heritage of Orthodoxy and foster a strong bond to the church. Hymns are prayers that are integral to both our spiritual life and liturgical experience. Choir members learn to sing the beloved hymns of our faith and develop a deeper understanding of Orthodoxy through their participation in the Divine Liturgy.
Youth Choir Registration
Make Youth Choir a Part of Your Child's Life! Click here for Registration Form
Youth Choir sings the Divine Liturgy on the first and third Sunday of every month from September through June. In addition, youth choir sings for Christmas services, Challenge Liturgies, Salutations of our Most Holy Theotokos, Saturday of Lazarus celebrated with His Eminence Archbishop Demetrios, Holy Friday Lamentations, Palm Sunday and Pentecost. Rehearsals are conducted every Wednesday evening at 7:30PM. On the second Wednesday in September, "Welcome to Youth Choir" is held in the church music rehearsal room. We invite new members to join-Boys & Girls, ages 8 to 12 and 13 to 18 for the youth and teen ensembles.
The future of the beloved hymns of the Orthodox Church is in the hands of our youth.
Our Leadership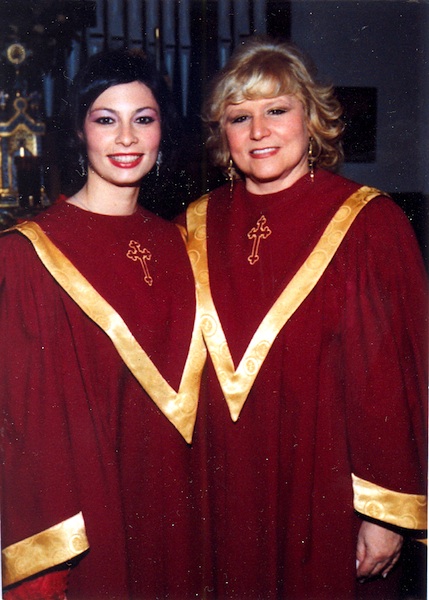 Each year exciting choir events are planned by Choir Director Georgia Kaufman, and Choir Director/Organist Eleni Rodopoulos Kaufman.
Miss Eleni holds a Masters of Science Degree in Education and is a summa cum laude graduate of Columbia University with a Masters of Arts Degree in Music. She is an accomplished pianist and soprano who owns a private music studio on Long Island where she inspires the joy of music, teaching piano and voice. She has performed as a solo artist in many concerts and in leading roles in musical theatre productions. Eleni has given instructive music workshops in Byzantine Hymnology and Vocal Pedagogy for Archdiocesan Conferences.
Miss Georgia holds a Masters Degree in Science and Masters of Arts Degree in Music. She is the recipient of National Forum of Greek Orthodox Church Musicians 2006 Patriarch Athenagoras I Medallion in recognition of Distinguished Metropolis Service. She has also been honored with the Direct Archdiocesan District (DAD) Federation of Greek Orthodox Church Musicians 2005 Choir Director of the Year Award for Dedicated and Loyal Service. She was chosen to receive the AMC 2013 Hellenic Thread Award. Georgia is a long-standing member on the Executive Board of the DAD Federation of Greek Orthodox Church Musicians.
Protopsalti Andreas Modinos was presented with the Archdiocesan District Federation Service Award in 2012. He has been honored by the National Forum of Greek Orthodox Church Musicians as the recipient of the Archbishop Iakovos Distinguished Service Award celebrating fifty years as chanter, thirty of which have been at Archangel Michael Church.
Organist Alexia Skiadas holds a Bachelor of Science Degree from the New York Institute of Technology. Alexia has been a member of the AMC Byzantine Youth Choir since she was eight years old. Her musical training encompasses eight years of classical piano lessons at Kriselen Music Studio and as a voice student at Mannes College.
Our Traditions
The Youth Music Ministry is involved in many worthwhile activities that include visiting the residents of Hellenos House, a home for physically and mentally challenged young adults. The youth choir also reaches out to bring joy to residents of local assisted-living and nursing home facilities. The choir celebrates the Divine Liturgy with His Grace Bishop Andonios and the senior citizens at St. Michael's Home. This year, a trip to Ayia Skepi Monastery is being planned. The choir members enjoy fellowship on Broadway theatre trips, musical productions at LIU Tilles Center, pool parties and at the annual Celebration of Music Concert held every June.
Our History
More than thirty years ago, a music hymnology program was instituted by Georgia Kaufman, for our children attending Sunday School classes. All grade levels, pre-kindergarten through eighth grade and Goyans, were taught the hymns of our faith. Learning the meaning of the hymns served as a teaching tool that enriched the Orthodox experience. Each year, the Sunday School children participated in music presentations for their Moving-Up and Christmas Pageants. The Hymnology Program fostered the development of a youth and teen choir. Our young people became interested in joining choir and it continued to flourish. For many years, youth choir sang the Divine Liturgy every Sunday at the first service at our former church location in Roslyn. The choir has enjoyed presenting musical programs for the AMC Ladies Philoptochos Christmas Brunch.
We were especially proud that the Archangel Michael Community hosted the first-ever Youth Conference and Liturgy of the Archdiocesan District in 2009. The angelic voices of the youth choir have graced our church Ground-Blessing, Ground Breaking, Thyranixia, Consecration and many Ordinations to the priesthood. In October 2013, a special highlight for our community took place; eighty-nine adult and youth church musicians gathered at Archangel Michael Church for the 29th Annual DAD Federation of Church Musicians Conference & Liturgy. The Conference Choir was conducted by Georgia Kaufman with organist Eleni Rodopoulos Kaufman. The spiritually uplifting ensemble of voices was absolutely magnificent!
Direct Archdiocesan District Federation of Church Musicians
For decades, as active members of the DAD Federation of Greek Orthodox Church Musicians, the youth choir has been a source of great pride for our community. They sang at the liturgy for the 37th Biennial Clergy-Laity Congress celebrated in 2004 with His Eminence Archbishop Demetrios and Hierarchs at the Marriott Marquis Hotel in New York City. They were featured at the 2005 Archdiocesan Federation Christmas Concert and at Cabaret Night College Scholarship Fundraisers. Many youth choir graduates of Archangel Michael Church have been recipients of the Scholarships. In November 2012, the magnificent hymns of our faith were chanted by AMC youth choir in a program in conjunction with Archdeacon Panteleimon and the priests and chanters of the Archdiocesan Byzantine Choir. At the Holy Trinity Cathedral in Manhattan, the youth choir performed in a concert honoring the Fifteenth Anniversary of His Eminence Archbishop Demetrios. Each year, AMC Youth Choir sings at the Direct Archdiocesan District Federation of Greek Orthodox Church Musicians Annual Church Music Conferences and Hierarchical Liturgies. At the most recent Conference, entitled I Will Sing Praises to God as Long as I Live, at the Church of the Dormition of the Virgin Mary in Southampton, Archangel Michael Youth Choir sang beautifully.
Let the Light of our Lord and Savior Jesus Christ fill your heart!