Philoptochos
Philoptochos
Philoptochos: A Legacy Of Hope, Faith, Charity And Love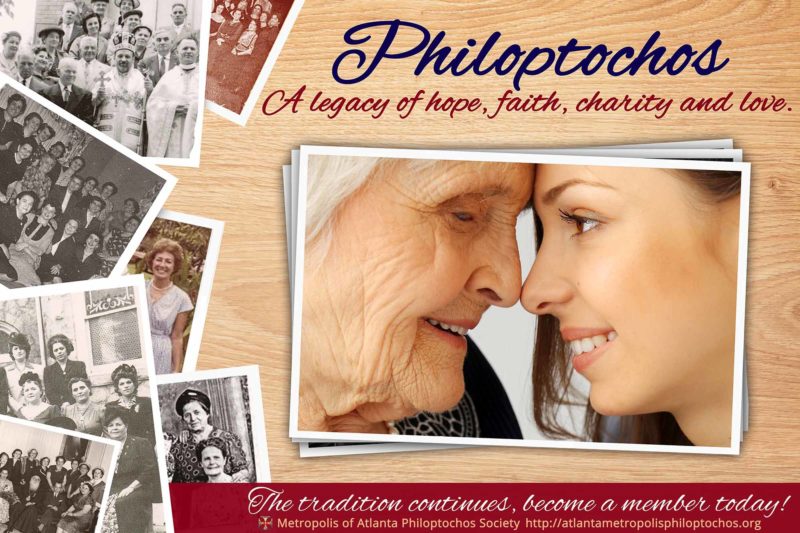 We invite all of the women of our church to experience the beauty that can be found in a life of service to others and we welcome you all to Philoptochos. Please fill out our membership form or email us at Philoptochos@ArchangelMichaelChurch.org. The tradition continues, become a member today!
Philoptochos Scholarship
The Archangel Michael Ladies Philoptochos has established a Scholarship Committee, whereby granting a $1,000 scholarship to a graduating high school senior who is of Greek Orthodox faith and has demonstrated a strong commitment to philanthropic endeavors throughout his or her high school career. It is our belief that a scholarship has the ability to boost the morale and confidence in a student's ability to work toward his or her future. By supporting our youth in this manner we help them build a strong foundation to achieve their potential. A copy of the application can be printed by using the following link: https://archangelmichaelchurch.org/wp-content/uploads/2022/01/AMC-Ladies-Philoptochos-Society-Scholarship_2022.pdf. Interested applicants should submit the application and required items by May 15, 2022 due date, and mail to:
Archangel Michael Ladies Philoptochos Society
C/O Archangel Michael Greek Orthodox Church
100 Fairway Drive
Port Washington, NY 11050
If you have any questions, please contact Diana Gardianos, Philoptochos President at 516-850-6272.
FAQ: What Is Philoptochos?
What is Philoptochos? While the Greek word "philoptochos" means "friends of the poor", it does not begin to describe the many facets of the organization that chose this name. The Greek Orthodox women of Philoptochos are involved in all areas of philanthropy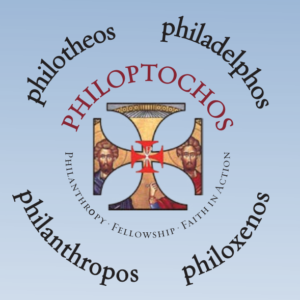 Greek Orthodox Ladies Philoptochos Society
Philoptochos provides the opportunity for women who are committed to actively assist those less fortunate and to make a difference. We continue in the steps of our mothers and grandmothers as we support national, metropolis and local philoptochos efforts to help those in need. Whether it is a need for ourselves or our community or to teach others about compassion, Greek Orthodox women are committed to actively assist those less fortunate and to make a difference.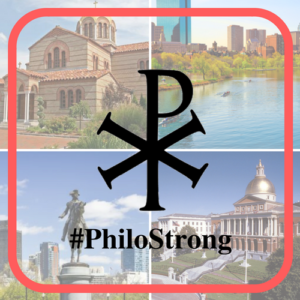 Philoptochos provides the opportunity to offer time, talent and treasure through Christian fellowship. As women, each of us is simply asking other women to care. We are reaching out to all women in our community to invite, to embrace and to involve you in all our Philanthropic endeavors as our Philoptochos chapter and our Society continue to meet the increasing demands of our ever-changing society in the world today.
But someone will say 'You have faith and I have works.'
Show me your faith without your works, and I will show you my faith by my works.
~ From the Epistle of St. James
Whether you are an active or supportive member, whether you like to cook, decorative arts, floral arrangements, sales and marketing, planning, soup kitchens, fund raising events for the hungry and those in need, cooperating in activities to support our community, increasing awareness in issues that affect us and our families through participation in instructional and educational programs and lectures.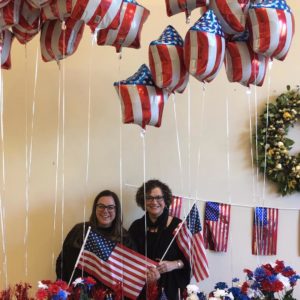 Philoptochos Membership Benefits
Being part of a philanthropic movement
Changing someone's life
Developing friendships
Expressing yourself
Getting involved in your community
Helping those in need
Learning from others
Making an impact
Using your skills to help others
We need your talents and skills. Philoptochos will provide you the opportunities to express yourselves in the areas of your choosing. We would like to encourage those of you who are busy with your children, your jobs and your families to come and be a part of our team. Even if you only have an hour or two a month, there is a place for you and for everyone. Join the energetic, creative, and compassionate women of the Archangel Michael Church Philoptochos.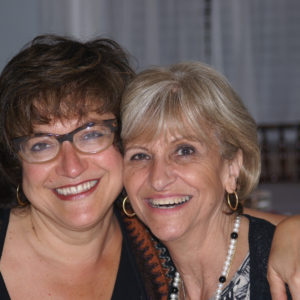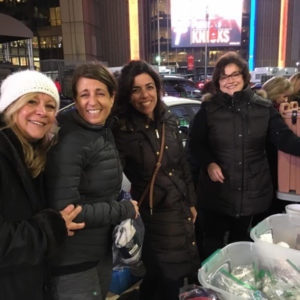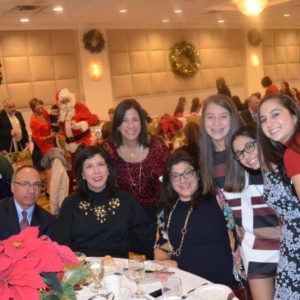 Calendar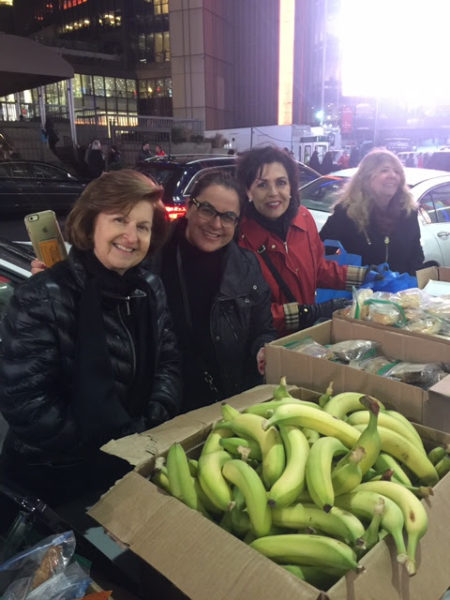 Philoptochos Calendar for 2018-19
** Items will be added periodically. Please check future weekly blasts as well as each Sunday's Archangel's Call for updates.
**Feeding the Homeless at Penn Station date TBD
September 2018
9/9 Look for our Membership table on Welcome Back Sunday, followed by Board Meeting
9/10 Philoptochos Wine and Cheese General Meeting 7:30pm with Guest Speaker Mary Scafidas-Jones presenting her new book, Journeys: An American Story, in which famous Americans reflect on their immigrant ancestors.
9/16 (Sun) Pass tray for Hellenic College Holy Cross
October 2018
10/7 (Sun) Philoptochos hosts Coffee Hour in honor of our Choirs
10/9 (Tues) Philoptochos Meeting 7:30pm
10/13 (Sat) Pilgramage to St. Nectarios Monastery in Roscoe, NY
10/14 through 10/28 2 weeks only: VFW Food Pantry drive
10/16 (Thurs) 5:30-7:30pm AMC Cooking Club
November 2018
11/3 9:00am-12:00pm AMC Cooking Club
11/4 (Sun) pass tray for Patriarchate – Ss. Cosmas and Damianos
11/5 (Mon) Philoptochos Meeting 7:30pm
11/7 (Tues) & 11/8 (Wed) preparations for Feast Day, Vespers 11/7, Liturgy 11/8
11/9 Nameday Gala at Leonards
11/11 (Sun) Veterans Outreach during Fellowship Hour w/Guest Speaker
11/17 (Sat) DAD Agape Luncheon Crest Hollow Country Club
11/30-12/1 (Fri/Sat) Decorate church and Christmas Tree / The Giving Tree
December 2018
**Ongoing: Toy Drive for needy Children via The Giving Tree
12/1 AMC Cooking Club 9:00am-12:00pm
12/3 (Mon) Philoptochos Meeting 7:30pm
12/6 (Thur) Christmas Brunch finalization meeting for committees, raffles/baskets wrapped
12/7 & 12/8 Christmas Brunch Bakery coordination and packaging
12/9 (Sun) Christmas Family Brunch at North Hills Country Club
12/15 (Sat) Challenge Liturgy Christmas Party
12/24 (Sat) Christmas Eve reception
January 2019
(date tbd) AMC Cooking Club
1/6 Tray for Vasilopita dedicated to St. Basil's Academy / Blessing of the Waters
1/7: (Mon): Philoptochos meeting 7:30pm
1/13 (Sun) we host Vasilopita cutting during coffee hour
1/17 (Thurs) Philoptochos Board Night Out (Social)
February 2019
2/3 Sunday – Go Red for Heart Health and pass a tray (National Wear Red day is Fri 2/1/18)
2/4 (Mon) Meeting 7:30pm
2/10 – Godparent's Sunday Brunch / Fairy Nouna project
2/23 11:30am AMC Cooking Club Making Pites with Guest Celebrity Chef Maria Loi
March 2019
*3/3-3/17 Dress for Success Clothing Drive
3/2 10:30am AMC Cooking Club Loukoumades with the Loukoumamas
3/4 (Mon) Philoptochos meeting, 7:30pm
3/10 after liturgy, decorate church with purple cloth
3/11 (Mon) Great Lent Begins Community Lenten pot-luck in Fellowship Hall
(3/12) Blood Drive
3/25 (Mon): Feast of the Annunciation & Greek Independence Day.
3/31 Greek Independence Day Parade
April 2019
(date tbd) AMC Cooking Club
4/8: (Mon) Meeting 7:30pm preceded by Apodipno Service 6:30pm
4/20 Sataurday of Lazarus / Challenge Liturgy
4/21 Palm Sunday
4/28 Pascha
May 2019
Ongoing: Dress for Success Drive, Veterans Toiletries Drive
(Date TBD)All Saints Monastery – Field Trip to participate in planting / gardening
5/5 (Sun) Philoptochos Election of the New Board for 2019-2021 term
5/6 (Mon) Philoptochos meeting 7:30pm
Tbd – 5/12 or 5/19 (Sat) 9-10:30a.m. Cooking Club
5/26 (SUN) Veterans Mnimosino to coincide with Memorial Weekend
June 2019
(date tbd) AMC Cooking Club
6/3 (Monday) Meeting, 7:30 pm
6/10 End of Year Dinner
Preparing for Fellowship (Coffee) Hour
Did you know that a rotating team of Philoptochos volunteers prepares for the Fellowship Coffee Hour offered every Sunday after the Divine Liturgy. We invite you to host one, whether for you or a family member's Name Day, Birthday, or simply in fellowship. Click here for instructions if you are hosting. Please contact us to arrange a date.
Outreach Activities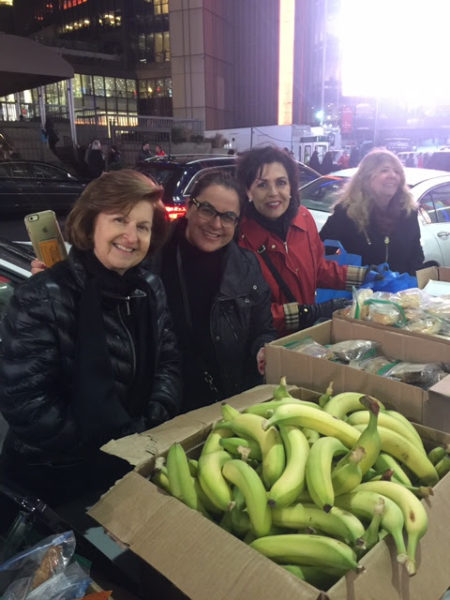 Our local chapter is involved on a national and local basis. Here is a list of the organizations we support at a National level, and some of our local projects:
NATIONAL OBLIGATIONS
Holy Cross Hellenic College Scholarship
Retired Clergy Association Fund
Cancer Fund
National Sisterhood of Presbyteres Ben. Fund (NSP)
UNICEF
General Medical Fund
Social Services
St. Photios Shrine
Hellenic College Holy Cross
Orthodox Christian Mission Center
Sisterhood of St. Basil Academy
International Orthodox Christian Charities (IOCC)
75TH Anniversary Founders Fund
SAMP(Support a Mission Priest)
Vasilopita (St. Basil's Academy)
Autism Assistance Fund
Ecumenical Patriarchate
National Philoptochos Emergency Fund
Orthodox Christian Fellowship (OCF)
ARCHDIOCESAN DISTRICT OBLIGATIONS
St. Michael's Home
Holy Cross Scholarships
Hellenic Cultural Center
SOCIAL SERVICES
Assist our Troops & Veterans
Adopt a Family (Hellenos House, Orphanages, Needy Families Outreach
Dress for Success & Career Gear
Fairy Nouna Project
Feed the Hungry (The INN soup kitchen, The Homeless at Penn Station, Meals on Wheels)
CHALLENGE LITURGY
VISITATION & CARDS/PHONE CALLS MINISTRY
HIV/AIDS WALKATHON
Godparent Sunday & Brunch
On Feb 10th, 2019 we hosted our 4th Annual Godparents Brunch with proceeds benefitting the outreaches of The Hellenic Relief Organization. This event is always so heartwarming as Godparents and Godchildren join together in loving gratitude for each other, to share a delicious variety of foods prepared with love in the AMC kitchen and by volunteer chefs in their own home kitchens or restaurants. Many thanks to chairpersons Chris Ioannou, Jasmine Baktidy and Chris Marie Tzavelis and the many volunteers who helped prepare, set-up, decorate and cook for the event.  A special thank you to Georgia Mouzakitis for taking charge of coordinating many contributions to the menu as well as the logistics of set up.  Her input has been priceless.  All told, we served donated food and drink to 244 guests and while the tally is still not finalized, it appears that we will be able to dedicate close to $5000 to Hellenic Relief.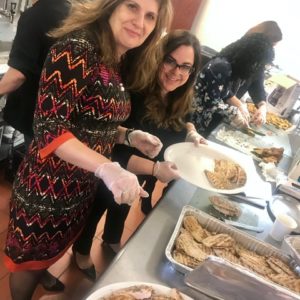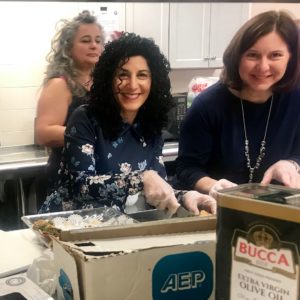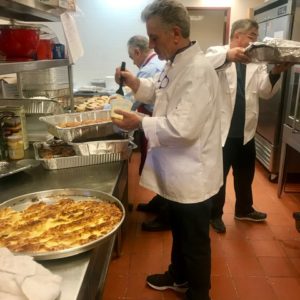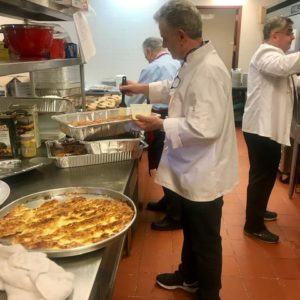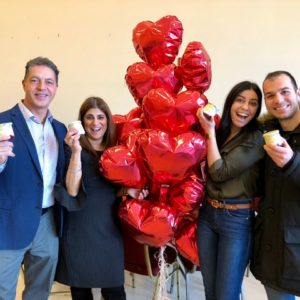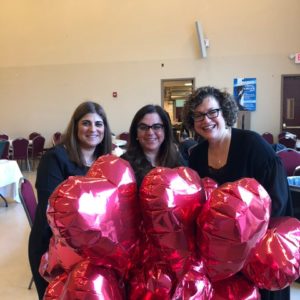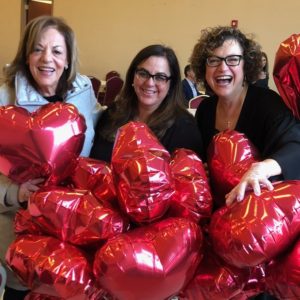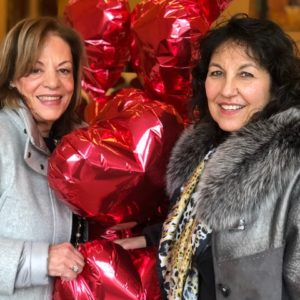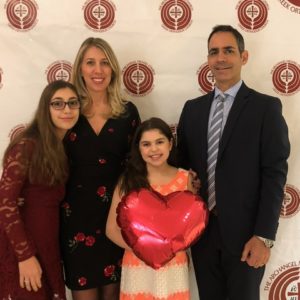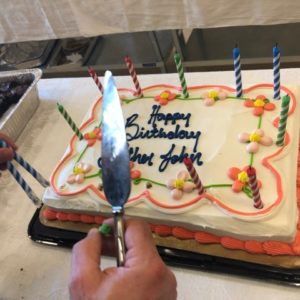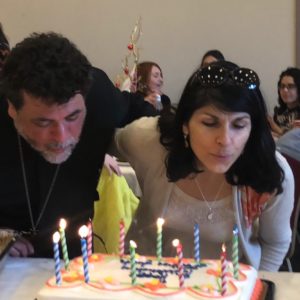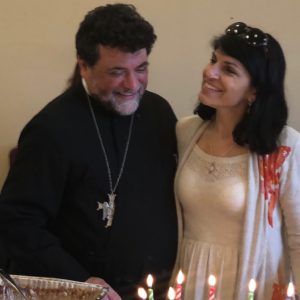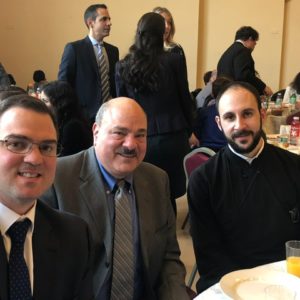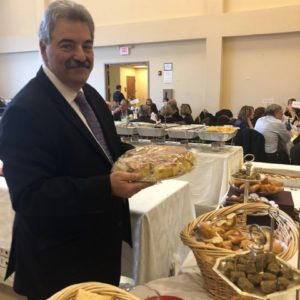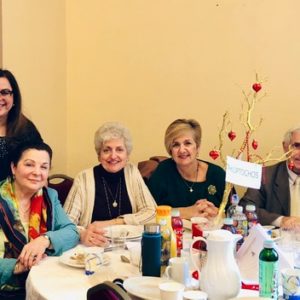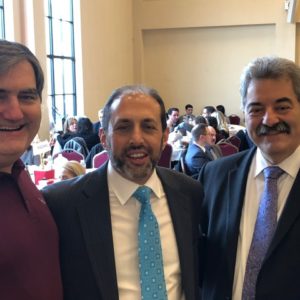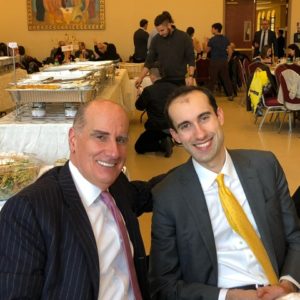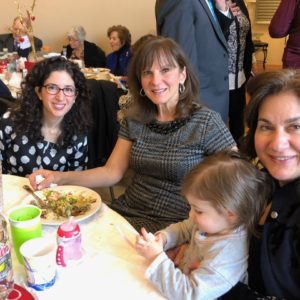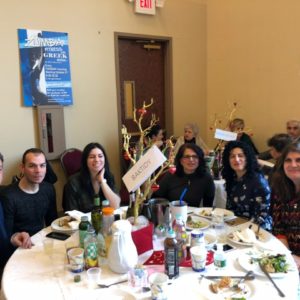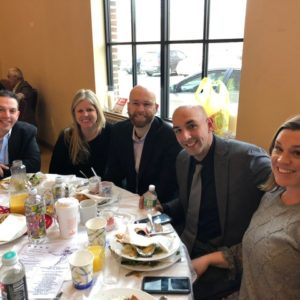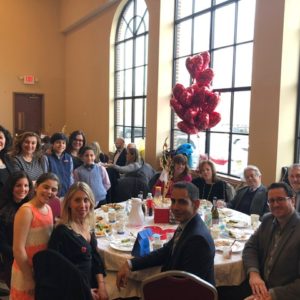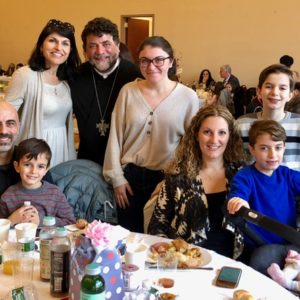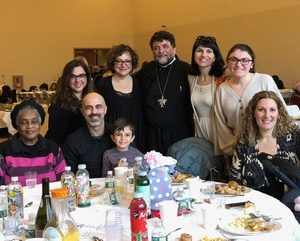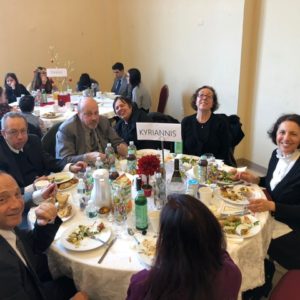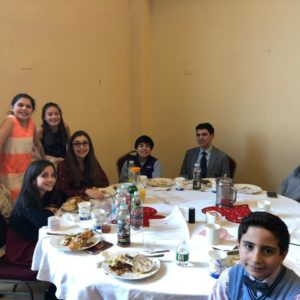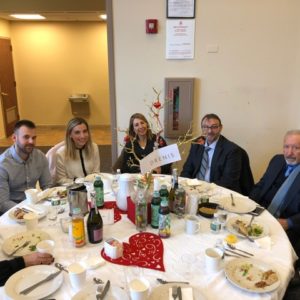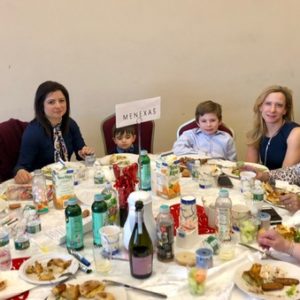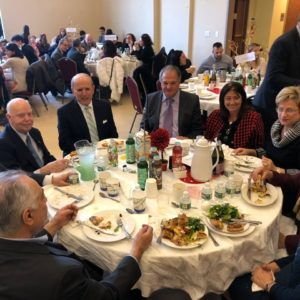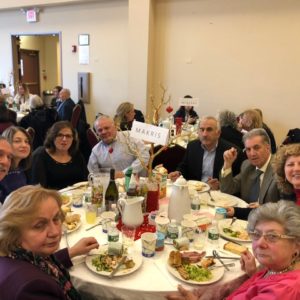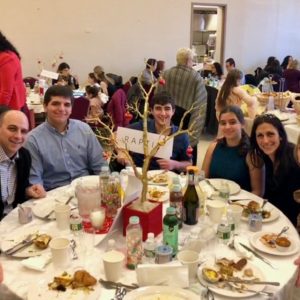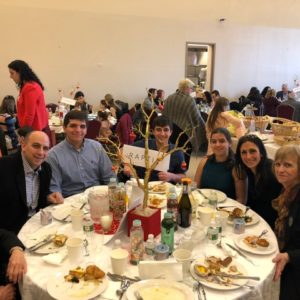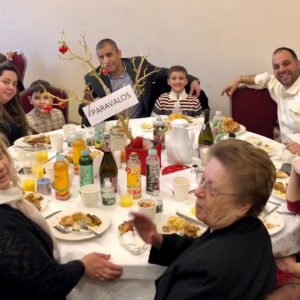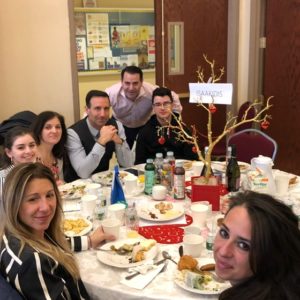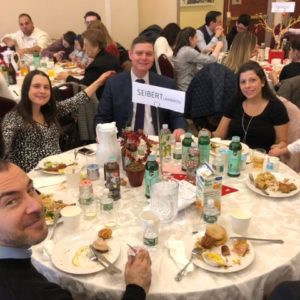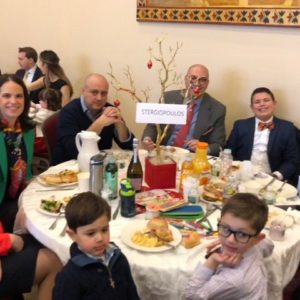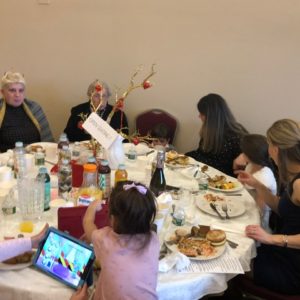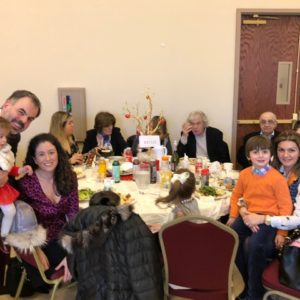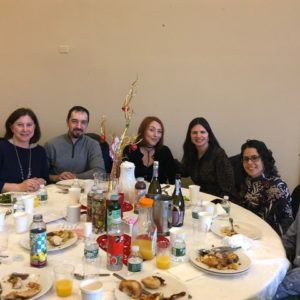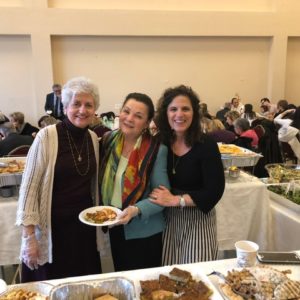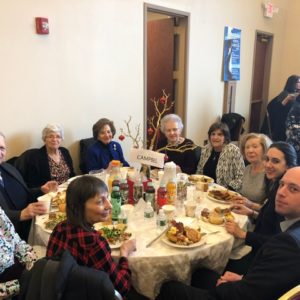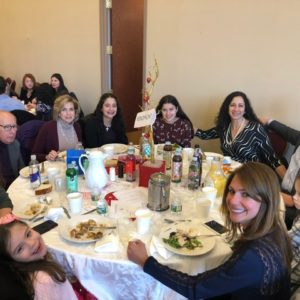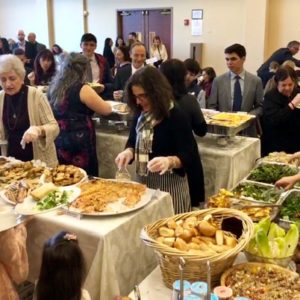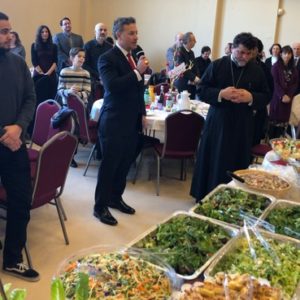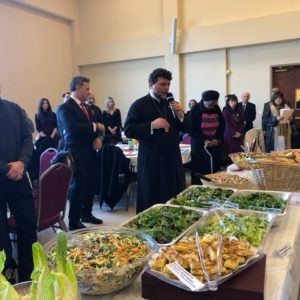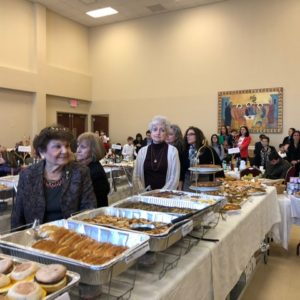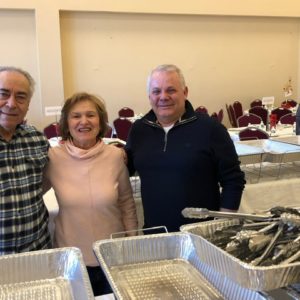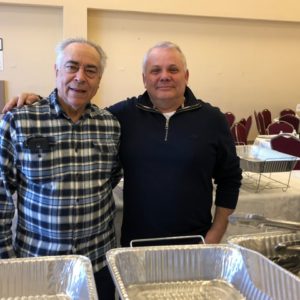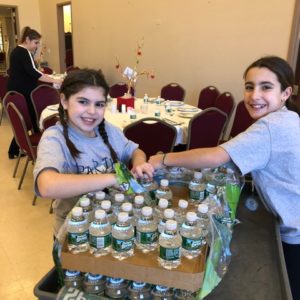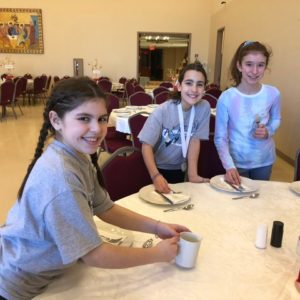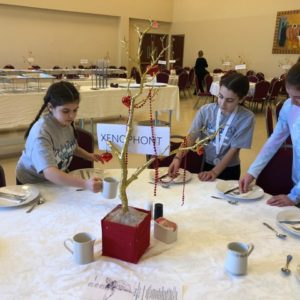 Elections for the New Philoptochos Board of Directors 2019-2021 Term
We invite all interested members in good standing of the parish and this Philoptochos chapter (for a period of at least one full year prior to the date of election to the Chapter Board) to consider joining our Board of Directors for the upcoming term.  To qualify, one needs to also be an active member of our chapter through volunteering efforts and with some history of attendance at our General Meetings and/or outreach events.  We welcome all interested parties to join our upcoming meetings to express your interest in becoming a candidate:
3/4 (Mon) Philoptochos meeting, 7:30pm
4/8 (Mon) Meeting 7:30pm preceded by Apodipno Service 6:30pm.
5/6 (Mon) Meeting 7:30pm
In April we will provide written notice of the election meeting to all members of the chapter.  Elections shall be conducted in the month of May.  More detailed information will be forthcoming as we get closer to the elections.  
Clothing Drive for Dress for Success & Career Gear
Donate your gently used career-appropriate attire. Clothing and accessories needed for men and women. DROP OFF AT CHURCH BETWEEN SUNDAY MARCH 3RD  THROUGH SUNDAY MARCH 17th, 2019. 2 WEEKS ONLY. 
Women's Health Initiative
Join us as ZUMBA begins a new session! Come try ZUMBA at 9:30 am – 10:30 am in the AMC gym.  Bring a mat, a water bottle and your kefi!   For more information, call Marina Vlahos 627-7303.  Eight people must register for Session Two to proceed. Early bird special, sign up for February through end of May only $250 for 15 classes!
Philoptochos' Welcome Back Wine & Cheese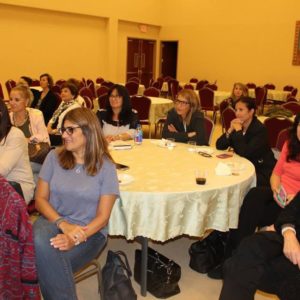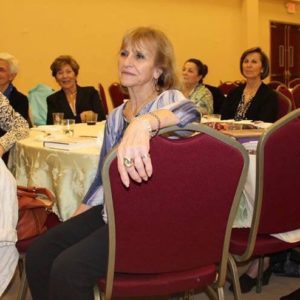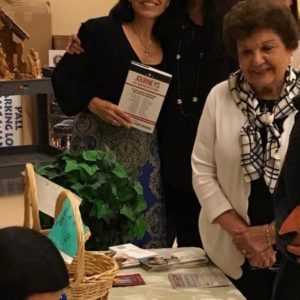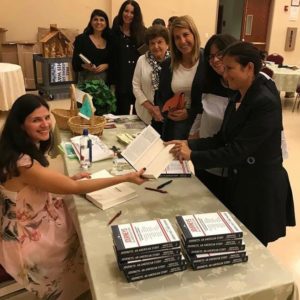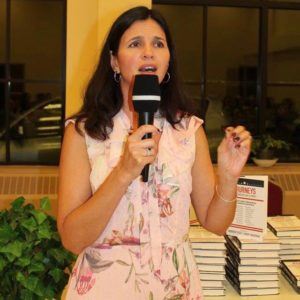 For the first gathering of 2018, Mary Skafidas Jones presented her book Journeys: An American Story . We heard stories of famous Americans recalling their immigrant roots and shared some of our own, realizing how very much we are all connected through our shared experience. Please click here for photos from this event and for a link to further information about this book, for which all profits are donated to the New-York Historical Society and the Statue of Liberty Ellis Island Foundation.
https://www.thenationalherald.com/203254/journeys-an-american-story-compiled-by-andrew-tisch-and-mary-skafidas/
AMC Cooking Club Class
Save the Date for the next AMC Cooking Club Class, Παραδοσιακές Σπιτίσιες χωριάτικες πίτες With Guest Celebrity Chef Maria Loi.  –Join us on Saturday, Feb 23rd, 2019 and come learn how to make Maria's famous Spanakopita and Tyropita, as well as how to make a special homemade dough for any pie,11:30am, $20 donation to Philoptochos.  Limited spots available-please reserve your spot with Vicky Giouroukakis at vgiouroukakis@molloy.edu  
The AMC Cooking Club has been formed with the idea of sharing and documenting Hellenic recipes. the traditions which created them, and cooking together in the spirit of community, To date we have made and shared lenten dishes both sweet and savory, tsoureki a regional dish from Cyprus, and have re-invented Thanksgiving with Greek/Native American fusion.. Sessions are scheduled for either Saturday mornings or weekday evenings. Look for announcements in the weekly blast and each Sunday's Archangel's Call.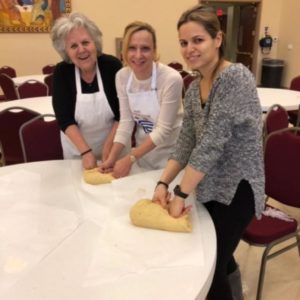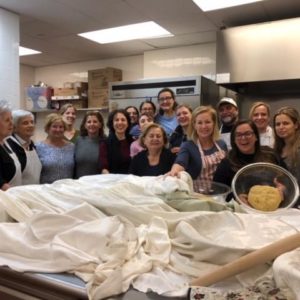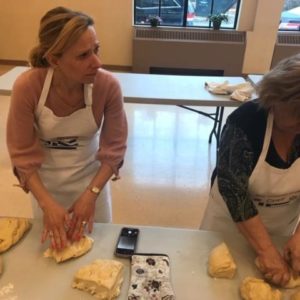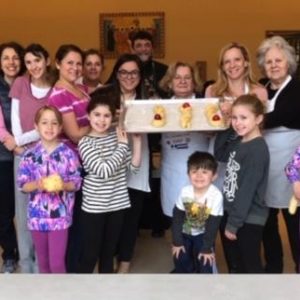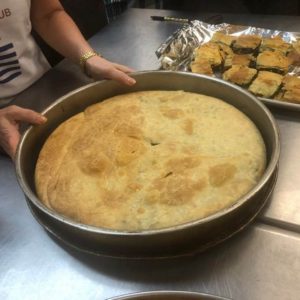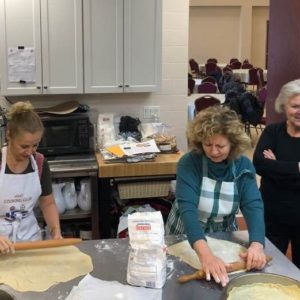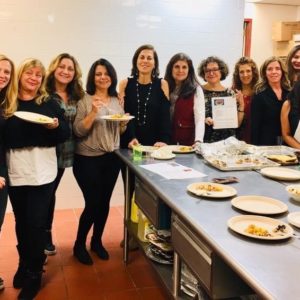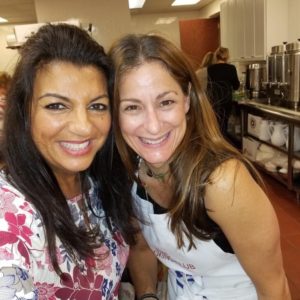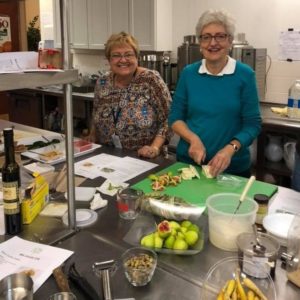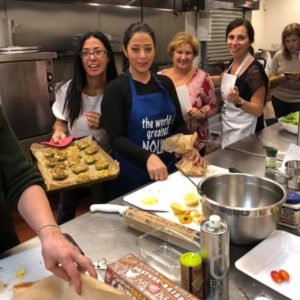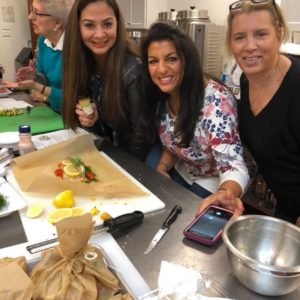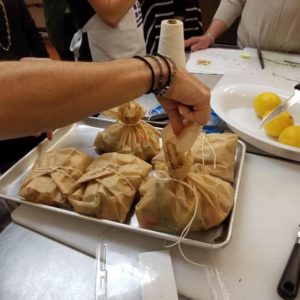 Philoptochos Feed the Hungry
Our Philoptochos chapter is continuing our Feed the Hungry campaign through Help Feeding America. Your generous gift will help us share meals with Americans struggling with hunger through a nationwide network of member food banks and engage our country in the fight to end hunger. If you would like to participate please click on the link below:
http://help.feedingamerica.org/site/TR?px=4475896&fr_id=1391&pg=personal
$1=11 meals!! it's a no-brainer!
BLESSINGS IN A BACKPACK
Please help us and support our monthly outreach "Blessings in a Backpack", the weekend food program for children in need in the greater Port Washington community.   The idea is simple: take home a backpack along with a list of food, fill the backpack with the non-perishable items on the list, and bring it back to AMC by the following Sunday (drop off outside the church office). We will deliver it to those in need.  This outreach serves approximately 45 children who may not otherwise have sufficient food at their homes over the weekend. 
Please look for announcements of collection dates each month or contact Xenia at 917-327-7579 or xeniat99@yahoo.com.  Thank you for your support!
Register for Philoptochos
Please consider joining Philoptochos! Click here to download the registration form.