Sunday School
Register Today!
2022-2023 Calendar
You can click here for the 2022-2023 schedule.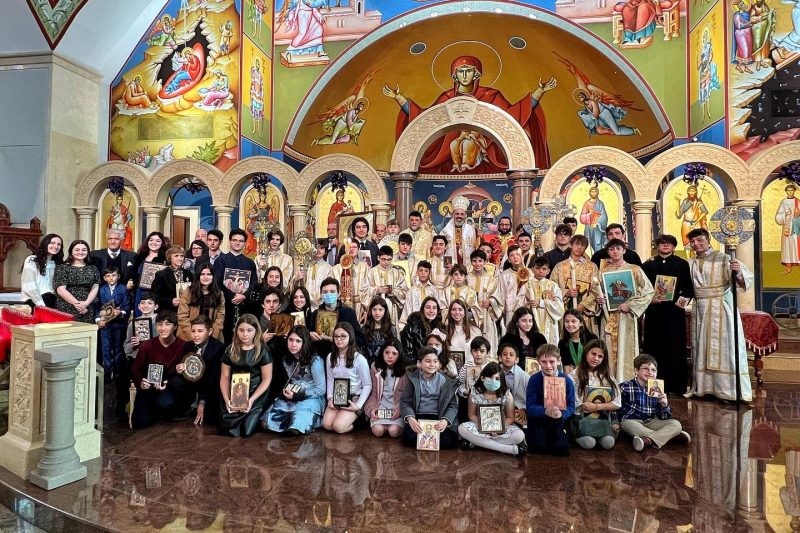 Sunday School
The Sunday School provides children between the ages of 3 and 18 the opportunity to attend classes and learn about the Greek Orthodox Faith.
Our mission is to follow in the words of St. John Chrysostom: "Let us raise our children in such a way that they can face any trouble, and not be surprised when difficulties come; let us bring them up in the discipline and instruction of the Lord…When we teach our children to be good, to be gentle, to be forgiving, to be generous, to love their fellow men, to regard this present age as nothing, we instill virtue in their souls and reveal the image of God within them. This, then, is our first task to educate both ourselves and our children in godliness; otherwise what answer will we have before Christ's judgment seat?"
Every Sunday, children assemble in church at the beginning of Liturgy, and, following the reading of the Gospel, they all proceed to their classrooms. For more information please call the church office or contact: info@archangelmichaelchurch.org.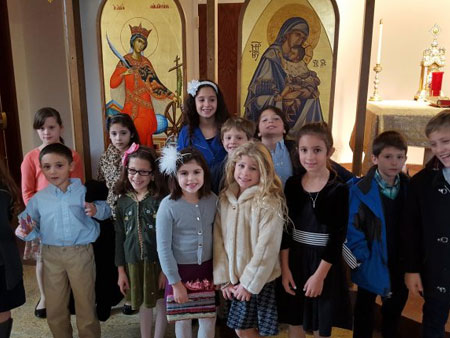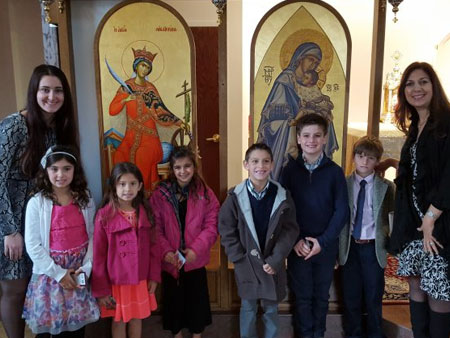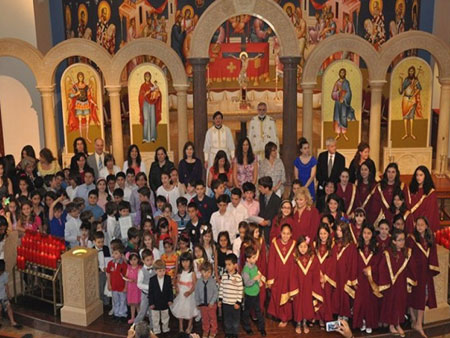 Sunday School Registration
After the resurrection, Jesus appeared to the eleven disciples and gave them the authority to go and baptize all nations, in the name of the Father, the Son and the Holy Spirit. He then said, "teaching them to observe all things that I have commanded you."MT28:20
The church is met with a tremendous challenge in the digital and cirtual age to find the venue iin which God's children may be nurtured spiritually and grow in the knowledge of God.
When a child is born, the parents of love care for the physical wellbeing of their child. They feed the child. They clothe the child. They shelter the child. They educate the child. If the parents fail in these areas, they would be considered negligent.
When a child is born spiritually through baptism, the soul, more so than the body, needs to be nurtured. The soul needs to be fed God through Holy Communion. The soul needs to breather through prayer. The soul needs to be sheltered in the Church. The soul needs to learn the teachings and the commandments of God.
There are many obstacles that continue to try and block this holy task commissioned unto parents by God when they committed to baptize their children, so that they may be called Christians. Sports, work, test preparations, traveling, spiritual laziness, being out late, driver's education and many other things often take priority to God. "Remember the Sabbath day, to keep it holy. Six days you shall labor and do all your work, but the seventh day is the Sabbath of the Lord your God. In it you shall do no work." EX20:18
As you register your child, or consider registering your child for Sunday School, consider the holy commitment that parents have, to raise their children towards holiness, towards sanctity, towards the Kingdom of Heaven.
This year for Sunday School, two new components are being added. There will be a "Mom Dad and Me" program for children that are two years of age (dependent on interest). For more information, please click here. Also, boys that are in the third grade and above will offer once a month service to the altar.
The Sunday School Divine Liturgy has been implemented to teach the Sunday School students about the Divine Liturgy. If they arrive halfway through the service, they have lost all the opportunity to be engaged in the meaning of the Divine Liturgy. Everyone makes sure their children get to school on time and to their sport events; that they arrive at a Broadway Show on time. If this same good habit is transferred to arriving on time for the Divine Liturgy, great spiritual success has been accomplished.
"The medicine and great secret for children's progress is humility. Trust in God gives perfect security. God is everything. No one say I am everything. That cultivates egotism. God desires us to lead children to humility." The Elder Porphyrios (a newly made saint)
We are looking forward to a very enthusiastic, creative, and uplifting year!
Sunday School Staff
-Director: Sevasmia (Sara) Savva
-Office Staff: Libby Doumanis & Valerie Papain
Teachers
Nursery: Effie Batis
Pre-Kindergarten: Millie Gianoukakis & Alexander Gianoukakis (Assistant)
Kindergarten: Kally DiPreta & Vanessa Gardianos (Assistant)
1st Grade: Kathy Drenis
2nd Grade: Niki Maropakis
3rd Grade: Kathy Pappas
4th Grade: Anna Theodosopoulos & Androula Xenophontos
5th Grade: Maria Dimopoulos & Katina Brountzas Kostaridis
6th Grade: Chris Ioannou & Michele Lascarides
7th & 8th Grade: Constantine Pourakis
9th & 10th Grade: Georganna Panos
11th & 12th Grade: Eleni Raptis & Harry Harris
Crafts Projects: Paula Pourakis
Christmas Pageant: Ellie Tulumba & Georgia Katsoulis
Key Annual Events
-Christmas Pageant: Every year, children from the Sunday school take part in a Christmas Pageant.
-St. John's Oratorical Festival: This festival gives the older students an opportunity to research a topic and then write a speech that they present to a panel of judges. The winners continue on to compete at the National Archdiocesan Festival.
-Godparent Month: The month of February is designated for the students of Sunday School to invite their godparents to attend church with them
Curriculum
Book titles are printed in bold and represent books recommended by the Greek Orthodox Archdiocese of America.
Nursery
I Go to Church—A young child's experience at the Divine Liturgy
Pre-Kindergarten
Reaching for Jesus—A pictorial introduction to Christ
Spero's Orthodox Alphabet Book—Children learn the alphabet by coloring letters representative of religious symbols in the church.
Kindergarten
Happy With God—God's love is the source of joy for children. The book examines aspects of worship and stories from Scripture that highlight examples of joy in life centered on Christ.
What We See and Do in Church Bible stories for coloring taken from the liturgical calendar.
First Grade
Me and My World—The focus is on "Creation" as God's gift. In discovering the world, the children begin to understand that family, friends, church and school all come from God.
Second Grade
Loving God—Through the example of men and women in the Bible and our Saints, children begin to understand right, wrong and forgiveness in the light of God's love.
Third Grade
Sharing God's World—Children learn about sharing through the examples of Jesus and are inspired to observe these examples in the Divine Liturgy, the sacraments, and other services of the church.
Fourth Grade
Growing With God—Children learn how to use and appreciate the Bible. It introduces examples of living the sacramental life, fasting, praying, helping others and learning about Saints.
Fifth Grade
God Calls Us—Lessons concentrate on stories of heroes whose faith has responded to God's call. Through these examples children learn to respond to God in terms of personal faith and the basics of Christian morality.
Parables of Our Lord—Children learn about the Parables of Jesus that offer basic truths for application to daily living.
Sixth Grade
Facing Up to Peer Pressure—Discussions center on the challenges and positive aspects faced by our youth and the effects of peer pressure.
Stewardship: Serving in God's World—The lessons of stewardship are
expanded from the environment, to our role of responsibility to others and its focus toward spiritual growth.
Knowing Christ—The teachings, miracles and parables of Christ are examined.
Honesty—Knowing the consequences of lying, cheating and distinguishing right from wrong are discussed through the Bible and the teachings of Christ.
The Christian Way of Life—Students learn about the pathways to "christian living" through scripture, tradition, doctrine, church history and liturgical life.
Seventh Grade
Bible Atlas—As defined by geography, children learn biblical territories through map exploration.
Worship in the Orthodox Church—Students learn that worship goes beyond the Divine Liturgy and is important to a Christ-centered life.
Eighth Grade
The Sacraments of the Orthodox Church—Students learn that sacraments are not simply ceremonies, but truly holy experiences which transform us and lead us to a fulfilling spiritual life.
Teenage Ten Commandments—This is an overview of the Ten Commandments and their relevance to young adults.
Young Adults
Bible Study and Discussion—Contemporary issues are discussed by examining the life of Christ as stated in the Bible.